DC Rock & Roll Flea Market w/ Surfer Joe, Frankie & The Pool Boys, The Young Barons, and more!
The City of Daly City presents…THE DALY CITY ROCK & ROLL FLEA MARKET, to benefit The Daly City Recreation Scholarship Fund
Featuring 30+ vendors selling records, vintage clothing/memorabilia, musical instruments, and more.
Beer and food available
Also featuring live performances by…
Surfer Joe (Italy)
Frankie & The Pool Boys
The Young Barons
The Greasy Gills
Three O'Clock Rock
The IFIC (feat. Jeff from The Hampton Wicks/The Clarke Nova, and Shane from The Bomboras)
Vendors include…
Pacific Pinball Museum
McDermott Guitars
Kepi Ghoulie
Elliot Kendall
Oodie's HotMesh
PRANK RECORDS
TikiNancy Elizabeth
John and Dave Seabury
John Vignault
Tim Cissna
Spud
Nate Tynan
Louise Rosenthal and Valerie De Vol
Kai Wada Roath
KFJC 89.7 FM
…and many more!
General admission $5
***Please remember there will be live music going on during a big portion of the day. Though we have booked bands who won't blow the roof off the gym, it will still be louder than your average record swap***
ALL AGES WELCOME!
*****************************************************************************
The Bellrays, The Atom Age, Smokers
1600 17th st
San Francisco
February 10, 2019 8:00 pm
Time: 8:00pm Day: Sunday Ages: 21+ Ages Price: $15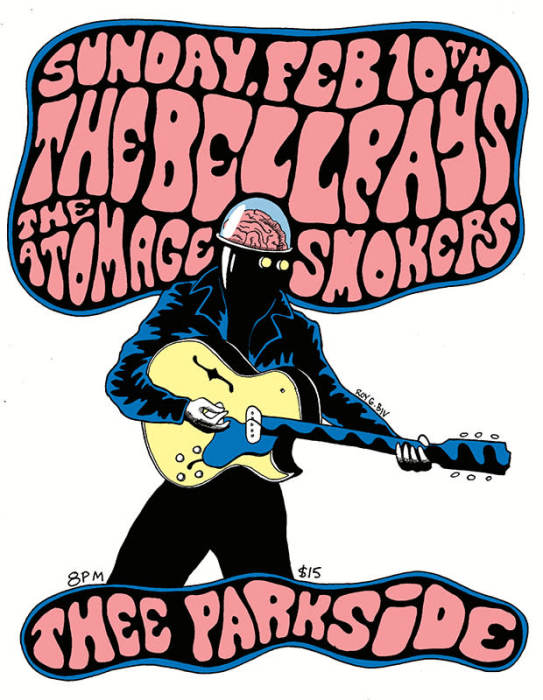 The Bellrays
If music is food for the soul, then The BellRays are Thanksgiving. At a BellRays show they know how to cook. Lisa Kekaula and Bob Vennum dish up plate after plate, hot and ready to eat. Each song gives you flavors that both taste good going down and make you wonder what's in it. Yes, the ingredients are important, blues, punk, rock, R&B…But even the best ingredients, used too much or too little, can ruin the experience and tire out the senses. The BellRays have been perfecting this recipe for years now and may not win awards but if you are in earshot no one leaves hungry. The BellRays give you not only what you crave, but what you need in every bite.
The Atom Age find their inspiration from the dust covered collections of unhinged 60's punk and R&B, whose crazed energy was once misconceived as a better fit for your trashcan than for your turntable. While taking many of their cues from these primitive pilgrims of punk, The Atom Age still strive to lay down their own modernized take on the sound. The band's new record, Hot Shame, was co-produced by Blag Dahlia of the Dwarves, and channels a wide range of influences from bands like The Sonics, Link Wray and the Murder City Devils.
Smokers
Oakland PubPunk.