Asian Man Records Presents:
Great Apes, Kepi Ghoulie, Dan Potthast, Kitty Kat Fan Club
FREEE!!!
1600 17th st
San Francisco
Time: 9:00pm     Day: Thursday     Ages: 21+ Ages     Price: FREE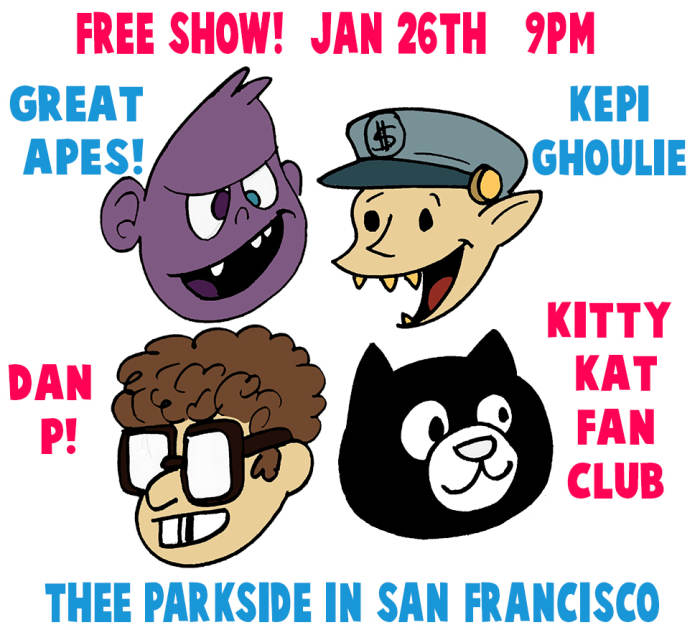 Asian Man Records Presents:
Great Apes
Insert hype-up descriptors here. Plain and simple, Great Apes are a punk band from San Francisco. Minimalism reigns. Play it fast, play it loud, and make it stick. While we all have been or are in an array of more complex projects, this band is founded on pop-sensible simplicity and the notion that music, much like a bio, is often at its finest when it's spit out intensely, with concision and honesty.
Kepi Ghoulie
Kepi is a genius. This ex-Groovie Ghoulies frontman is KEEPIN' IT REAL, with his all new band, Kepi The Band. He's been on tour for like 12 years straight. If you see them play and don't like them, then you must hate fun. The terrorists win. Buy albums now. Don't wait.
Dan Potthast
From St. Louis, MO, Dan is best known for his work as singer/songwriter of MU330. He is now working on acoustic, solo songs that present his talent and songwriting abilities at their best! Don't worry kids, he's still in MU330!
Kitty Kat Fan Club
Dear Friends…
Kitty Kat Fan Club = a group of friends who love music