ghost ship benefit: SWMRS, Jello Biafra GSM, Alaric, Naked Lights
522 2nd st
Oakland CA
Time: 7:00pm     Day: Thursday     Ages: All Ages     Price: $20 – $50
SWMRS (with very special guests)
Jello Biafra and the Guantanamo school of medicine
Alaric
Naked Lights
7.30pm doors 8pm first band
$20 Minimum donation, $50 advised
ALL AGESGoal of Ghost Ship benefit:
First and foremost our goal is to raise as much money for the family members who were directly effected by the Ghost Ship fire, for the roommates of victims to pay bills/rent, to cover any personal costs directly impacted by the fire.
Second Designate funds to a group who is deemed most fit to preserving warehouses/alternative art live work spaces. A group who is on the side of the arts and will fight for tenant rights and influence city officials to work with artists to bring buildings up to code and maintain legal residency rather than eviction through red tag, and or other regulations that cause for blanket eviction with out chance to reconcile. Right now we're thinking that the Grey Area Fund is most appropriate, but we're open to suggestions.
Third to raise awareness of the importance of the alternative warehouse/art spaces amongst our communities. Music and art needs it's place in the Bay Area, the country, the world. Innovative art cultivates in the underground. The art scene is a huge reason why people are attracted to the Bay Area in the first place. To oppress or dismantle the underground arts is the city shooting itself in both feet.
******************************************************
Disastroid, Motorhome, The Porno Riots, Girls with Guns
Skate Party!!!!! Raffle w/ prizes from Lowcard, Paisley Skateboards, Blood Wizard!!
All proceeds from the raffle go to underprivelaged kids in need for the holidays.
1600 17th st
San Francisco
Time: 9:00pm     Day: Thursday     Ages: 21+ Ages     Price: $8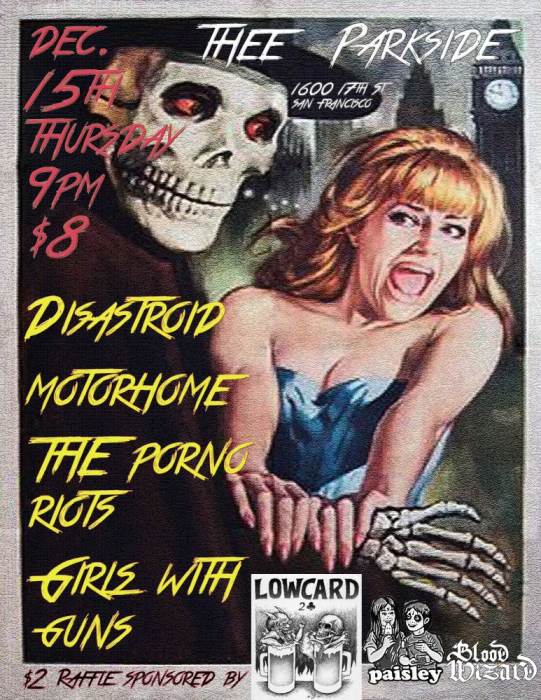 *************************************************************
Great American Music Hall Presents
Jonathan Richman featuring Tommy Larkins
Daria Johnson 4
Great American Music Hall
859 O'Farrell Street San Francisco CA 94109
Thursday Dec 15, 2016
Doors @ 7:00pm / Show @ 8:00pm
$17 advance / dinner
$41.95 dinner